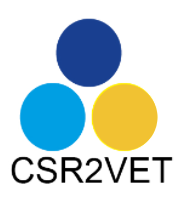 Project Title: CSR2VET
Project Acronym: CSR2VET
Project Code: KA220-VET-7224A9A1
Start Date:
End Date:
Program: Erasmus+
Website and platform
https://csr2vet.eu/crs2vet-the-course/#h5pbookid=10&chapter=h5p-interactive-book-chapter-3daa895d-2a59-4f54-939f-b1a4e426e1fb&section=0
Project Aim:
This Project is about the introduction of Corporate social responsibility in the VET sector.It aims at integrating the business interest with that of the community in which it operates. The actions of business and industry impact the lives of citizens, both directly and indirectly. Hence the business and industry are expected to assure a reasonable level of responsibilities towards society in addition to their economic and legal obligations. The corporations have, thus, an obligation to various groups of society and are expected to be ethical and good corporate citizens.
Partners:
Results:
. Promote CSR as a methodology for bettering the VET sector 2. Increase engagement and participation of
fewer opportunity people in VET 3. Increase employability opportunities and promote new roles in companies through
CSR 4. Increasing the awareness of educational situations, especially vocational education, on social responsibility.
In addition to our objectives when we mention CSR Values we mean – Environmentally friendly approaches – A more
inclusive society and active community involvement – WIN WIN for students, teachers, companies, and communities