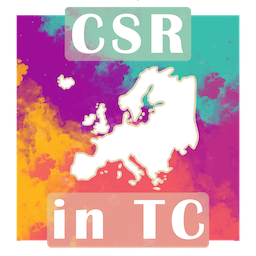 Project Title : CSR and Ethics in Training Center's for benefit of all
Project  Acronym :CSRinTC
Project Code : 2019-1-FR01-KA204-062402
Start Date : 01-09-2019
End Date : 31-12-2021
Website :
Aim:
Our first task will be to analyse the difficulties European training centres encounter and to use the findings to create tools which will enhance the efficiency and sustainability of training centres.
Our second objective is "Extending and developing educators' competences".
Our third objective is social inclusion: training centres should welcome disabled people as often as possible.
Partners :
 KENTRO EPAGELMATIKIS KATARTISIS DIAS EPE – Greece
COMPLEXUL MUZEAL NATIONAL MOLDOVA IASI -Romania
PRO IFALL AB – Sweden
EPIMORFOTIKI KILKIS Single Member llc – Greece
Euphoria Net Srl – Italy
MAISON FAMILIALE RURALE D'EDUCATION ET D'ORIENTATION DE MIDI PYRENEES – France,
SDRUZHENIE "RUSENSKA STOPANSKA KAMARA" – Bulgaria
Arena i Swiat – Poland
Manteifels projekti- Latvia
Result :
CSR is perceived as an economic development tool for training organizations, as the responsibility they have in the matter brings them to teach sustainable development and to put into practice their teachings.
Creation of 5 intellectual productions in all: Sectoral good practice guidelines / Indicators associated with the repository / Self-diagnosis and list of related recommendations / Online courses / CSR Report.